PALMERSTON NORTH CITY COUNCIL
Arts, Culture and Heritage Committee MEETING
12 February 2018
Order of Business
NOTE: The Arts, Culture and Heritage Committee meeting coincides with the ordinary meeting of the Economic Development Committee meeting. The format for the meeting will be as follows:
- Arts, Culture and Heritage Committee will open and adjourn immediately to following Economic Development Committee
- Economic Development Committee will open, conduct its business and then close.
2. Notification of Additional Items
Pursuant to Sections 46A(7) and 46A(7A) of the Local Government Official Information and Meetings Act 1987, to receive the Chairperson's explanation that specified item(s), which do not appear on the Agenda of this meeting and/or the meeting to be held with the public excluded, will be discussed.
Any additions in accordance with Section 46A(7) must be approved by resolution with an explanation as to why they cannot be delayed until a future meeting.
Any additions in accordance with Section 46A(7A) may be received or referred to a subsequent meeting for further discussion. No resolution, decision or recommendation can be made in respect of a minor item.
To receive comments from members of the public on matters specified on this Agenda or, if time permits, on other Committee matters.
(NOTE: If the Committee wishes to consider or discuss any issue raised that is not specified on the Agenda, other than to receive the comment made or refer it to the Chief Executive, then a resolution will need to be made in accordance with clause 2 above.)
4. Presentation - Creative Sounds Page 7
5. Presentation - Centrepoint Theatre Page 21
6. Confirmation of Minutes Page 23
"That the minutes of the Arts, Culture and Heritage Committee meeting of 13 November 2017 Part I Public be confirmed as a true and correct record."
7. Tourist Signs - Caccia Birch Page 31
Memorandum, dated 6 December 2017 from the Senior Transportation Engineer, Glenn Connelly.
8. Committee Work Schedule Page 45
9. Exclusion of Public
To be moved:

"That the public be excluded from the following parts of the proceedings of this meeting listed in the table below.

The general subject of each matter to be considered while the public is excluded, the reason for passing this resolution in relation to each matter, and the specific grounds under Section 48(1) of the Local Government Official Information and Meetings Act 1987 for the passing of this resolution are as follows:

General subject of each matter to be considered

Reason for passing this resolution in relation to each matter

Ground(s) under Section 48(1) for passing this resolution

This resolution is made in reliance on Section 48(1)(a) of the Local Government Official Information and Meetings Act 1987 and the particular interest or interests protected by Section 6 or Section 7 of that Act which would be prejudiced by the holding of the whole or the relevant part of the proceedings of the meeting in public as stated in the above table.

Also that the persons listed below be permitted to remain after the public has been excluded for the reasons stated.

Chief Executive (Heather Shotter), Chief Financial Officer (Grant Elliott), General Manager, City Enterprises (Ray McIndoe), General Manager, City Future (Sheryl Bryant), General Manager, City Networks (Ray Swadel), General Manager, Customer Services (Peter Eathorne), General Manager, Libraries and Community Services (Debbie Duncan), Human Resources Manager (Wayne Wilson) and Communications and Marketing Manager (or their representative (name)) because of their knowledge and ability to provide the meeting with advice on matters both from an organisation-wide context (being members of the Council's Management Team) and also from their specific role within the Council.

Legal Counsel (John Annabell), because of his knowledge and ability to provide the meeting with legal and procedural advice.

Governance and Support Team Leader (Kyle Whitfield) and Committee Administrators (Penny Odell, Carly Chang and Rachel Corser), because of their knowledge and ability to provide the meeting with procedural advice and record the proceedings of the meeting.

[Add Council Officers], because of their knowledge and ability to assist the meeting in speaking to their report and answering questions, noting that such officer will be present at the meeting only for the item that relate to their respective report.

[Add Third Parties], because of their knowledge and ability to assist the meeting in speaking to their report/s [or other matters as specified] and answering questions, noting that such person/s will be present at the meeting only for the items that relate to their respective report/s [or matters as specified].
PALMERSTON NORTH CITY COUNCIL
TO: Arts, Culture and Heritage Committee
MEETING DATE: 12 February 2018
TITLE: Tourist Signs - Caccia Birch
DATE: 6 December 2017
AUTHOR/S: Glenn Connelly, Senior Transportation Engineer, City Networks
RECOMMENDATION(S) TO Arts, Culture and Heritage Committee
1. That Council Officers investigate and provide comprehensive review of information signs and facilities to be sign posted and report back to the Arts, Culture and Heritage Committee in June 2018.
2. That Caccia Birch House is advised that a signs policy is being developed, which will cover tourist facilities, and that no work on signs as they have requested will be completed in the meantime.
1. ISSUE
The Arts, Culture and Heritage Committee (13 November 2017) in consideration of the 2016-2017 Annual Reports for Council-Controlled Organisations (Cultural) recommended:
5. That the Chief Executive reports back on the implementation of tourism signs for Caccia Birch by December 2017.
2. BACKGROUND
Signs within the road network are primarily to control and regulate drivers to ensure the safety of all road users. Signs also provide information and guidance; this includes information signs and more specifically tourist signs such as those requested by the Management of Caccia Birch House.
NZTA Guidance for Signs (Good Practice)
Council does not have a formal sign policy. The New Zealand Transport Agency's 'Manual of Traffic Signs and Markings' provides sound engineering guidance. Its provisions relating to tourist signs are as follows:
Source: Manual of Traffic Signs and Markings
9.1.1 GENERAL
This section of the Manual sets out the requirements for the signing of tourist facilities on New Zealand state highways. It is recommended that al local road controlling authorities adopt these requirements for tourist facility signing on roads under their control, to ensure consistency in traffic signing throughout New Zealand.
Tourist signs are detailed in the ST and TR sign series. These signs form part of the overall traffic signing system but are not intended to guide travellers through a roading system. They are used to indicate tourist facilities, when those facilities are not obvious to passing motorists.
The basic assumptions made for guiding travellers through any roading system are that:
· some preparation will have been done before a journey is commenced, and
· a road map will have been used to determine the route to be followed.
The most appropriate method to indicate tourist facilities is therefore to:
· provide a roading system with route numbering and clear, consistent guide signing; and
· add tourist signing only in the immediate vicinity of a tourist facility.
The application of the principles set out in this section of the Manual will ensure a consistent and appropriate level of tourist signing on New Zealand roads.
9.4.1 ELIGIBILITY FOR TOURIST SIGNING
The following criteria have been developed to assist in determining whether a tourist facility is eligible for tourist signs. Eligibility for tourist signs does not entitle the placement of a sign on the road. Application for the installation of a sign must be made to the relevant road controlling authority which, in making a decision, will include an assessment of the following criteria which have road safety and road efficiency implications.
9.4.2 GENERAL CRITERIA FOR SIGNING
In order to qualify for tourist signing, the facility should:
a. Have tourism as a core business focus;
b. Provide a definite tourism experience in addition to, or as part of, any commercial/retail activity (ie the experience must be for the purpose of education, physical adventure, cultural development, demonstration of the manufacture of goods, or demonstration of crafts, as distinct from retail sales or other major use of the premises, and must be available on a regular basis at all times when the establishment is open);
c. Have all relevant government and council licences and approvals to operate as a tourist facility
d. Be open to the public without prior booking during the facility's normal opening hours;
e. Be open on weekends and at least three other days of the week, plus public and school holidays;
f. Be open for a minimum of 7 hours per day on the days the attraction is open;
g. Display clearly at the entry point the days and hours of opening;
h. Provide clean and conveniently located toilets, including those suitable for disabled users;
i. Provide adequate all weather off-street parking, including dedicated spaces for disabled visitors, also for coaches and other large vehicles if such vehicles are ever expected;
j. Have an entrance to the above parking which is in a safe location and designed to appropriate standards for the amount of traffic using it and the traffic volume along the state highway in the vicinity;
k. Have information about the facility available at nearby and regional visitor information centres, with opening hours, admission prices, location and directions;
l. Promote the location and clear directions to the facility to visitors from outside the local area, utilising electronic and print media;
m. Be appropriately signed within the property line, including clear indication about parking, so that it is easily identifiable to passing road users; and
n. Meet any specific criteria for the appropriate category of tourist attraction detailed below.
Caccia Birch House
Caccia Birch's core business is Weddings, Functions and Events; its web site states that it is Palmerston North's premier venue in this regard. Its normal operating hours are not readily apparent on the web site and it is expected that tourist activities would be restricted when the venue is being used for formal functions. The grounds however are generally open to the public to visit with historic information available on signs around the site.
Heritage New Zealand lists Caccia Birch House (CBH) as one of seven Category 1 historic buildings in Palmerston North; and there are another 25 category 2 historic buildings. The Palmerston North District Plan identifies 84 heritage buildings and objects; CBH is one of 27 Category 1 features.
Caccia Birch House's 'Annual Report to the Statement of Intent' identified promotion of the House as a key Strategic Goal. This includes a specific objective to campaign for tourism road signs en route to CBH.
A discussion with the manager of Caccia Birch House indicated that they were concerned that CBH was a significant asset for the City and that the lack of signs was a missed opportunity. They indicated that tourism signs as seen in other areas / locations features could be placed at Fitzherbert Avenue directing people along Te Awe Awe Street and on Main St East directing people down Victoria Avenue.
Examples of Tourist Signs
The Manawatu Scenic Route is signposted in a coordinated fashion across the region. The windfarm lookout is an isolated feature which is also sign posted from the State Highway in Ashhurst.
Photograph 1 Advance Sign/s – Napier Road, Ashhurst (80 kph)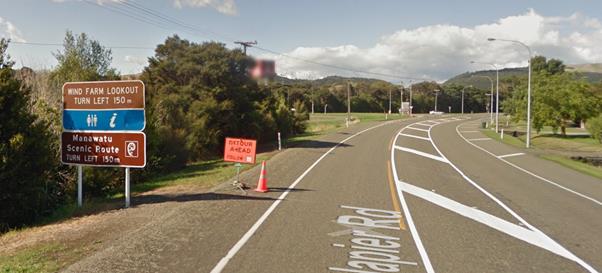 Photograph 2 Intersection Direction Signs – Napier Road, Ashhurst (80 kph)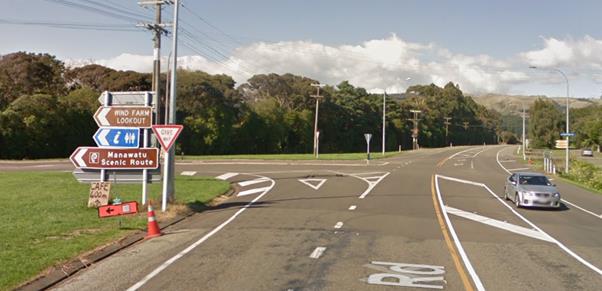 Photograph 3 Intersection Direction Signs – Cambridge Ave, Ashhurst (50 kph)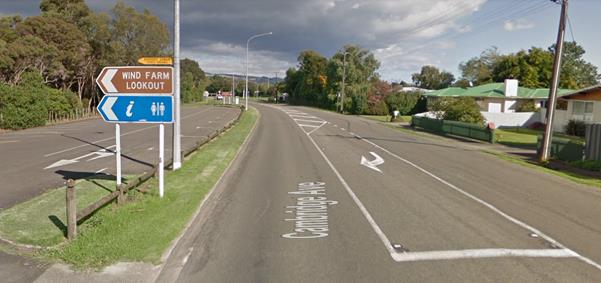 Signs have also been developed to help promote the Rugby Museum which is a significant tourist destination. The following sign was erected at the Main Street / Pitt Street intersection.
Figure 1 Rugby Museum Sign

3. OptionS
Status Quo - Retain Existing Signs
Caccia Birch House is located on Caccia Birch Lane which directly adjoins Te Awe Awe Street. The House is sign posted with a heritage sign located on the same post as the street name blade. There is in addition a CBH conference and function centre sign next to Te Awe Awe Street as well as a Meeting Rooms for Hire sign on the fence. Refer to Photographs 4 to 7. The facility is readily identifiable from the Te Awe Awe Street road frontage.
The existing CBH conference centre sign is however facing Victoria Avenue and not easily read by traffic travelling along Te Awe Awe Street.
Photograph 4 Caccia Birch Lane and CBH Signs – Te Awe Awe Street Intersection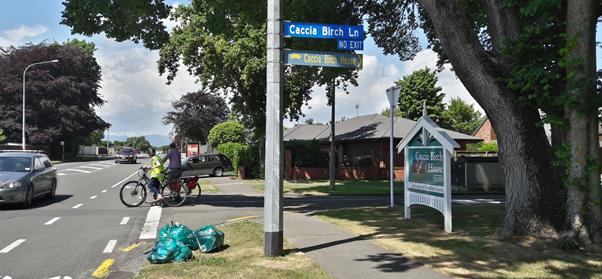 Photograph 5 CBH Main Sign - facing Victoria Ave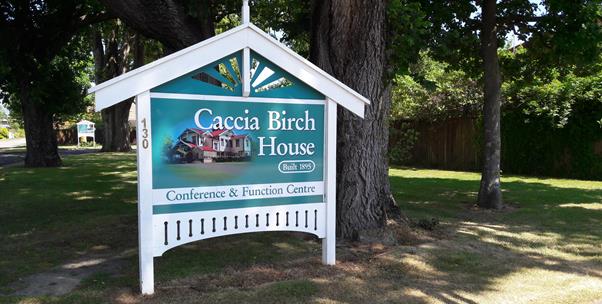 The option to retain the existing signs with no additional signs is most consistent with the New Zealand Transport Agency's (NZTA) guidelines for sign posting tourist facilities.
· Tourism is not the core business of CBH; it is a conference and function centre (reference 9.4.2 a - General Criteria for Signing)
· CBH is note freely available to the public; the NZTA guidance indicates that tourist facilities should be 'open without prior booking' (9.4.2 d). The facility is sign posted indicating; that visitors are welcome to walk in the gardens unless closed for a special event, and that the historic homestead is available for 'viewing by appointment only'.
· The historic homestead is only available during office hours 9am to 5pm Monday to Friday; it is therefore not available on weekends (as per 9.4.2 e).
The site is readily apparent and can easily be found when using a map.
There would be no costs or risks associated with this option. This option however would do nothing to further to promote / advertise CBH.
Photograph 6 CBH Main Sign & Meeting Rooms for Hire Sign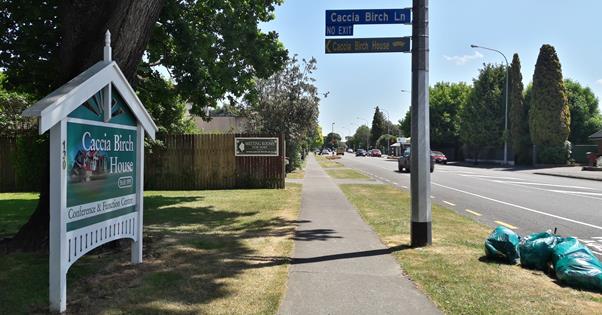 Photograph 7 CBH Historic Homestead Hours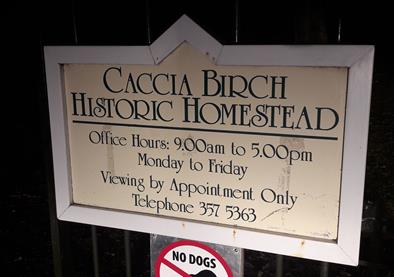 Additional Signs – Modest
Modest direction signs could be installed to help indicate the presence of CBH. One sign at each additional intersection could suffice with a cost of approximately $200 to $500 per sign depending on the size and method of mounting. These costs could be met out of the operational budget.
The following is an example of an intersection direction sign that could be installed.
Figure 2 Caccia Birch –Intersection Direction Sign


Whilst this option is not consistent with NZTA guidelines the effect of an additional sign or two is unlikely to have a significant adverse effect.
A sign or signs could be coordinated or collocated with other information signs at the Fitzherbert / Te Awe Awe intersection as requested by CBH management. A sign located at the Main St (SH3) / Victoria Ave intersection would however require NZTA approval given it is a State Highway. This is likely to meet some resistance given the activity does not align well with the NZTA guidance for signing tourist facilities and the absence of a comprehensive strategy or policy.
There is a risk that erecting signs for CBH could set a precedent, being mindful that CBH's events and function centre is commercial and other similar activities could also expect to be sign posted. Examples of this include Centrepoint, The Regent, The Convention Centre and Wharerata. A coordinate and planned approach is therefore considered necessary given the potential scale.
Additional Signs – More than Modest
CBH management however expressed an interest in larger tourist signs; similar to signs that are seen on the rural state highway network. Signs of this size would normally include a sequence of signs (before, at and after each major turn / intersection). The costs would therefore be more substantial and could readily be $2000 per approach with higher costs if larger signs are used.
An example of this approach to sign positing CBH is as follows.
Figure 3 A Simple Example of more Comprehensive Signs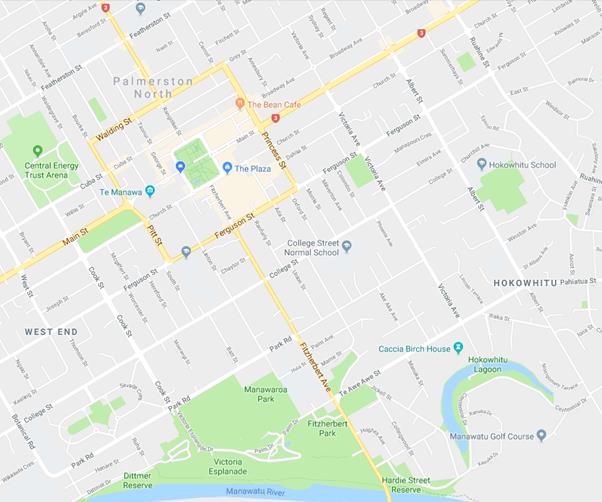 Photograph 8 Fitzherbert Ave (Southern Approach)
Existing Advance Direction Sign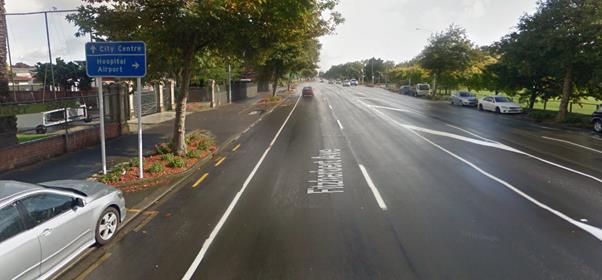 Photograph 9 Fitzherbert Ave / Te Awe Awe St (Eastern Departure Leg)
Existing Intersection Direction Sign & other Information Signs
There is an inherent risk, as previously discussed, that other facilities will want to be promoted using similar signs. This could result in a proliferation of signs and reduce the effectiveness of other information intended for drivers; such as regulatory controls and safety information. It is therefore essential that the provision of information signs (which includes tourist signs, motorist service signs and general information signs) is coordinated.
A strategic review of signs should include the State Highways within the City. NZTA also assist financially with the provision and maintenance of road signs. The NZTA should therefore be considered and involved in the development of any strategy.
The international Pacific University (IPU) have also expressed an interest in improved direction signs and suggested that this could include a review of signs for Massey and Food HQ.
Figure 4 Sign Concept Requested by IPU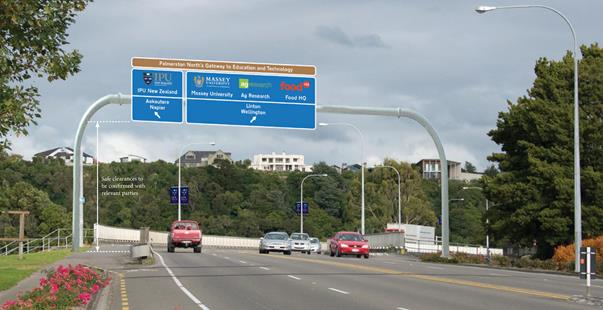 These types of signs would have a significant visual effect and would be very expensive. The amount of information also needs to be moderated to ensure drivers can readily comprehend the information without significant distraction.
4. NEXT STEPS
There is a significant amount of work needed to review existing information signs which is wide reaching. This will need a multi-disciplinary approach from within Council with input for example from; from Strategic Planning, Urban Design, Marketing & Communications, Community Development, Property, Transport and Roading. It will also require the involvement of NZTA who have jurisdiction for State Highways within the City, and who assist financially with provisions and maintenance of road signs.
A coordinate approach is therefore needed with a Strategy and / or Policy to be reported to the Arts, Culture and Heritage Committee in June 2018.
5. Compliance and administration
Does the Committee have delegated authority to decide?

If Yes quote relevant clause(s) from Delegations Manual <Enter clause>

No

Are the decisions significant?

No

If they are significant do they affect land or a body of water?

No

Can this decision only be made through a 10 Year Plan?

No

Does this decision require consultation through the Special Consultative procedure?

No

Is there funding in the current Annual Plan for these actions?

Yes

Are the recommendations inconsistent with any of Council's policies or plans?

No
Nil
Glenn Connelly

Senior Transportation Engineer