PALMERSTON NORTH CITY COUNCIL
Memorandum
TO: Infrastructure Committee
MEETING DATE: 5 August 2020
TITLE: Whakarongo Residential Subdivision 6-Monthly Update
Presented By: Bryce Hosking, Manager - Property
APPROVED BY: Tom Williams, Chief Infrastructure Officer
RECOMMENDATION(S) TO Infrastructure Committee
1. That the memorandum entitled 'Whakarongo Residential Subdivision 6-Monthly Update' presented to the Infrastructure Committee on 5 August 2020, be received for information.
1. ISSUE
1.1 This report is providing the 6-Monthly update on the Whakarongo Residential Subdivision project being undertaken by Council.
1.2 Please Note:
· There is currently a parallel discussion around Council potentially retaining some sections for the construction Council-owned public rental housing within the subdivision.
· The first report on this matter titled 'Public Rental Housing within Council's Whakarongo Subdivision' was presented to the Finance and Audit Committee on 17 June 2020, with a follow-up report being presented to the Finance and Audit Committee Meeting in August 2020.
· However, the project continues to an proceed in developing the site to a serviced section level with all sections being sold to the marketplace.
· If a resolution is passed by Council to build housing within the development, this would be a change in scope of the project and reflected in the next 6-monthly update.
· Until a competitive tender process has been undertaken for the construction works, the final costs are unable to be confirmed.
2. BACKGROUND
2.1 Palmerston North City Council owns an area of 9.63ha within the upper terrace of the Whakarongo residential growth area off James Line.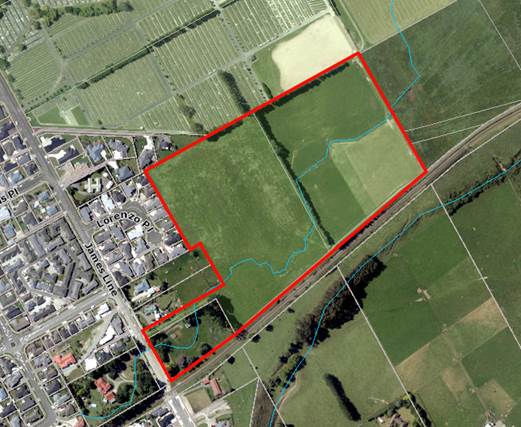 2.2 The land was acquired by Council for cemetery purposes but was no longer required. As obliged under the public works process the land was offered back to the previous owners to purchase, but no offer was received.
2.3 Given no offer was received, the parcel of land was subsequently rezoned for residential use.
2.4 The Long-Term Plan anticipated that Council will develop this land and funding was allocated beginning in the 2018/19 financial year through Programme 1485.
2.5 Once developed the site will create 114 new residential sections. Sections will be of a variety of sizes to appeal to a wide variety of purchasers by giving options regarding design, build type and purchase price.
2.6 Council has engaged Veros Property Services as the lead development consultant to manage delivery the programme on its behalf. 4Sight Consulting and Land Development Engineering (LDE) have been engaged for the overall design and civil and geotechnical design respectively.
3. Development Update from 1 july 2020
Development Layout
3.1 Below is the proposed layout submitted with the resource consent approval: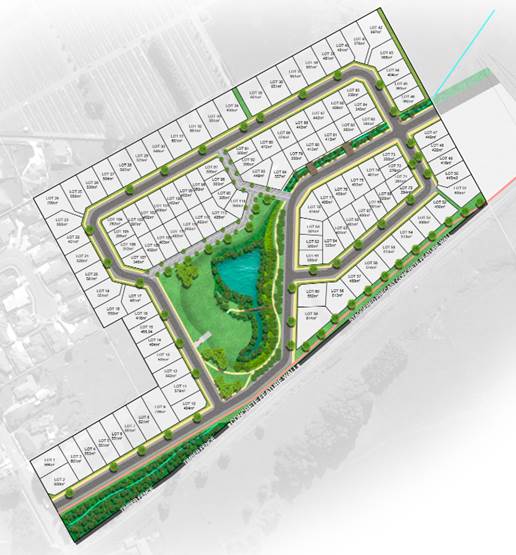 Note, while this is the proposed layout of the site and is being considered the final layout, it may be subject to some minor changes as part of the consent process with PNCC and Horizons.
3.2 As the detailed designs have been refined it is now confirmed that there will be 114 sections within the development, not 115.
3.3 Section sizes range from 275m2 (a couple) through to 810m2, with the average section size being 463m2.
Design
3.4 LDE are progressing with detailed engineering designs as planned. These are on track to be completed in mid-July.
3.5 4Sight Consulting are preparing to commence detailed landscape design upon receipt of LDE's design information in July.
3.6 LDE have submitted conceptual utilities designs to suppliers, i.e. electrical, street lighting and telecommunications design and construct services, to determine pricing for these services. These are over and above the civil construction tender.
Regulatory
3.7 Veros continue to work through the consenting process and field requests for information and detail from both Horizons Regional Council (HRC) and Palmerston North City Council's (PNCC) respective planners.
3.8 HRC are seeking more information in relation to the existing farm drain that traverses the site and the potential for loss of habitat.
3.9 This is despite the ecological report stating: "The ecological values of the proposed development site are currently low as a result of the long-term rural land use. Residential development of the site will therefore not result in the loss of significant ecological features or values. Indeed, the development offers an opportunity to increase the biodiversity values of the site while creating an attractive amenity feature for future residents."
3.10 To address this, Veros are preparing a further response to address how ecological values will be enhanced as a result of the development.
3.11 Council are also yet to receive an updated date from HRC for the determination of notification of consent.
3.12 There are also some remaining concerns from planners regarding stormwater attenuation on the site and this continues to be worked through.
3.13 For clarity, as part of our stormwater requirements of the development, Council is proposing to install a culvert from our stormwater dry pond area, under the rail corridor, and into the oxbow in the below property on the other side of the rail tracks. Whilst provision will be made for this in stage 1 of the development, this will not actually be constructed until stage 2. KiwiRail require a specific formal approval process for this undertaking over and above the resource consent. There have been ongoing discussions with KiwiRail regarding this, but formal approval is still required in due course.
Development Programme
3.14 The development of the site will be split into two stages. The current consents that have been submitted are for Stage 1 (circa 79 sections), with the balance of sections to be delivered in Stage 2.
3.15 Stage 2 is subject to the approval of the comprehensive discharge consent (CDC) for the entire Whakarongo Growth Area from Horizons Regional Council and is anticipated to closely follow, but remain distinct from, Stage 1.
3.16 Ideally, the timing of the CDC ties in with the completion of Stage 1 construction works to enable us to seamlessly roll from Stage 1 to 2 without further mobilisation and establishment of a contractor. This is subject to the performance and throughput of Stage 1 and approval of KiwiRail as indicated in Clause 3.13.
3.17 Below is a summary of the Stage 1 Development Programme:
· June/July 2020 – consent
· June/July 2020 – detailed design
· July/ August 2020 – presales and procurement
· September 2020 – contract negotiations and mobilisation of contractors
· October 2020 – earthworks commencement
· February 2021 – civil works commencement
· August 2021 – titles issued.
Legal
3.18 Simpson Grierson have been engaged as the project solicitor. They were briefed in early July and are conducting reviews of existing documents and historic property files. They will also be providing general advice on legal matters in respect to delivering a development on behalf of local government.
3.19 In addition, Simpson Grierson will be the custodian of all sale and purchase, transaction and contractual matters associated with the development.
Marketing for Sales
3.20 We have recently engaged and briefed Black Sheep Design to come on board as specialist marketing, brand and design consultants to assist with the sale of sections.
3.21 Black Sheep Design have started their research and are preparing to present initial ideas to the project team later in July.
3.22 A programme for marketing of the development is to be formed along with a programme and strategy for the presale of sections.
3.23 Rangitāne o Manawatu have been working with the project team through all areas of the project and will have input and involvement in the marketing design process.
4. NEXT STEPS
4.1 Begin the marketing and presales phase of the project.
4.2 Begin the procurement phase of the project.
5. Compliance and administration
Does the Committee have delegated authority to decide?

Yes

Are the decisions significant?

No

If they are significant do they affect land or a body of water?

No

Can this decision only be made through a 10 Year Plan?

No

Does this decision require consultation through the Special Consultative procedure?

No

Is there funding in the current Annual Plan for these actions?

Yes

Are the recommendations inconsistent with any of Council's policies or plans?

No

The recommendations contribute to Goal 1: An Innovative and Growing City

The recommendations contribute to the outcomes of the City Development Strategy

The recommendations contribute to the achievement of action/actions in the Housing and Future Development Plan

The action is: Housing development is initiated at Whakarongo

Contribution to strategic direction and to social, economic, environmental and cultural well-being

Progressing a Council-led housing development at Whakarongo (2018/19 onwards).
PALMERSTON NORTH CITY COUNCIL
TO: Infrastructure Committee
MEETING DATE: 5 August 2020
TITLE: Facilities Management Improvements Update
Presented By: Bryce Hosking, Manager - Property and Sarah Hall, Facilities Management Team Leader
APPROVED BY: Tom Williams, Chief Infrastructure Officer
RECOMMENDATION(S) TO Infrastructure Committee
1. That the memorandum entitled 'Facilities Management Improvements Update' presented to the Infrastructure Committee on 5 August 2020, be received for information.
1. ISSUE
1.1 The facilities management (FM) provision within the Property Division is an important function of Council. It ensures Council facilities are fit for purpose, well maintained, and generally meet the needs of the people that use them.
1.2 Within Council the FM service provision is responsible for:
· Attending to unplanned and unscheduled repairs and maintenance;
· Undertaking planned and scheduled maintenance;
· Facility condition grade assessment and monitoring;
· Maintenance and works planning;
· Compliance planning; and
· Delivery of in-house operational functions – minor work, painting and cleaning.
1.3 The Infrastructure Unit identified that the FM service provision was under resourced and the team was not structured to best deliver the service required.
1.4 As a result, the Facilities Management Team within the Property Division has been undertaking a significant review of how this service has been delivered in the past and is in the process of transitioning to a facilities management service delivery model that is better aligned with accepted industry practice.
1.5 This report provides an update on the changes and improvements in this area.
2. background – the need for change
Overview – A Predominantly Run-to-Failure Approach to Maintenance
2.1 Historically Council's facility maintenance has predominately focused on run-to-failure maintenance strategy.
2.2 In this strategy, assets are deliberately allowed to operate until they are about to fail at which point reactive maintenance or replacement of the asset is undertaken.
2.3 Limited planned preventive maintenance is performed within facilities other than to critical assets which if failed may pose a risk to health and safety or affect the facility's ability to operate.
2.4 The disadvantages of this strategy are:
· Unpredictable – Because most asset failures are unpredictable, it is difficult to anticipate when manpower and parts will be needed for repairs.
· Inconsistent – The intermittent nature of failures means efficient planning of staff and resources can be difficult.
· Costly – All costs associated with this strategy need to be considered when it is implemented.
2.5 For clarity, this maintenance approach was not in the absence of planning. A lot of maintenance is planned, it is just planned to respond to the anticipated failure of assets. However, it would be fair to surmise that a significant amount of the reactive maintenance was unplanned for.
2.6 This is a common maintenance strategy when there is a lack of condition data driven decision making and an operating environment of insufficient or very constrained budgets.
Annual Maintenance Spend
2.7 The annual total facilities maintenance budget is approx. $3,600,000.
2.8 Whilst this is split over all of Council's buildings and facilities, the top 5 maintenance spend areas are consistently:
1. Social Housing - $950,000
2. CAB - $540,000
3. Cultural Facilities - $280,000
4. Public Toilets - $235,000
5. Community Centres - $160,000
2.9 Note: figures above have been rounded for simplicity of reading and to provide an indicative split. Actual figures may vary from year to year.
2.10 To provide some context to paragraphs 2.1 – 2.6 the reactive vs preventative maintenance splits for the 2018/19 financial year, and 2019/20 are presented below: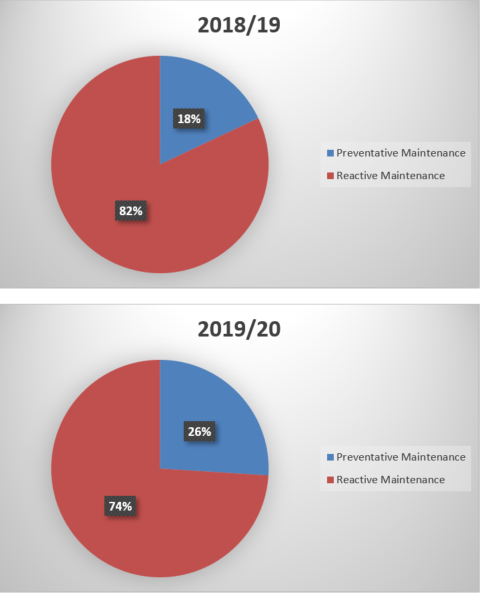 2.11 The movement in the reactive vs. preventative maintenance split between the two years reflects a transition to the enhanced FM approach discussed in Section 3 of this report. Ideally a mature FM model would see the percentage splits reversed.
KPMG Report
2.12 In May 2019 KPMG were commissioned to provide an independent review of Council's facilities management operations and activities.
2.13 The KPMG report focused on Council's current operating environment as well as providing recommendations for aligning this to the commercial industry operating environment standards.
2.14 There were several options that could achieve this including fully outsourcing the service to an external provider. It was agreed by all parties however moving to a single service external operating model would create distance between the in-house FM team and the users of the facilities, and thus would not be the best vehicle for delivering the overall outcomes Council is trying to achieve.
2.15 The report found whilst the then current approach was addressing many of the basic requirements of its facilities such as scheduled and unscheduled maintenance, the Property Division's overall FM approach was limited and was not deemed best practice.
2.16 Broadly the KPMG report recommended that changes be made to:
· Skillsets;
· Processes;
· System; and
· Contractors.
2.17 The first of these issues was addressed through the Infrastructure Unit restructure in May 2019.
2.18 It was identified that the Property Division structure did not allow for the key deliverable areas to be resourced and focused on, it was not aligned to best practice, and had resulted in double ups, no clear line of sight to strategic direction, and Council Officers practicing a wide variety of tasks rather than focusing on key deliverables.
2.19 This restructure saw the creation of dedicated FM and compliance functions within the Property Division to enable a "narrow and deep" structure, rather than the generalist "wide and shallow" role scopes.
WT Partnership (WTP) Engagement
2.20 WTP were engaged to assist with the implementation of the recommendations.
2.21 After understanding and context of the KMPG report, WTP adopted a relatively deep dive into the internal processes within Council's FM team.
2.22 From that deep dive WTP identified several issues which created an environment which was highly labour intensive as well as one which lacked meaningful data collection. The main areas of deficiency could be summarised as:
· A relatively basic maintenance management system which required significant input from staff to perform basic functions such as getting FM jobs out to contractors. The system also does not talk to the financial system or the K-Base job logging system meaning that the FM team perform significant administration tasks duplicating information from one program to another;
· Considerable double up and multiple different areas of Council arranging maintenance rather than through the FM provision;
· An inconsistent approach to the maintenance of facilities, focusing too heavily on individual requests, rather than basing maintenance on portfolio types;
· A reasonable lack of meaningful contracts with FM related clauses like priority classifications and requirements to document changes to assets;
· Limited asset data, job data and planned preventative maintenance (mainly compliance) data meaning limited ability to make accurate decisions both costs, compliance and asset longevity;
· A significantly "reactive" overall FM function mainly due to the FM team spending large amount of time duplicating data etc.;
· A lack of job oversight in terms of knowing which work orders were complete, in progress, delayed, cancelled etc. (the FM function would have to phone/email the contractor to find out progress); and
· A Health and Safety system in this area which lacked some oversight in terms of PNCC being the main PCBU and assumed most of the responsibility fell on the sub-contractors.
2.23 As a result, there is an increased risk of Council paying substantially more than required for FM services through a combination of lack of contracts, comfort levels of the incumbent suppliers and a lack of a transparent procurement process for services.
3. Enhanced Facilities Management Approach
3.1 Given the findings from the deep dive, WTP began to develop an enhanced approach to FM which:
a) dealt with the main efficiencies identified in Paragraph 2.11; and
b) gave effect to the remaining 3 broad recommendations from the KPMG report.
Transformation to the Enhanced FM Model
3.2 The transformation to the enhanced approach is aligned to the All of Government Facilities Management Service Panel Maturity Model.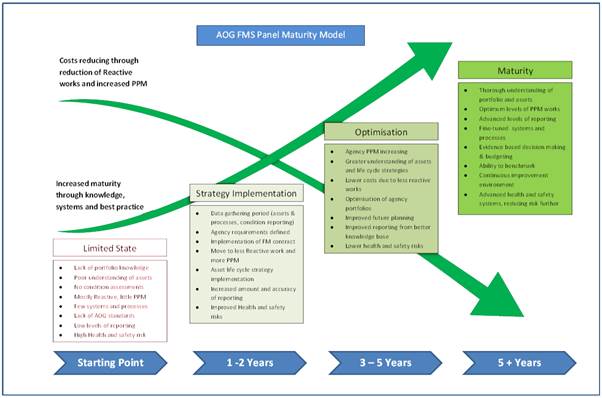 3.3 Appendix 1: 'All of Government Facilities Management Service Panel Maturity Model' contains a larger version of this diagram.
3.4 Broadly this sees the FM function reduce costs through increasing planned preventative maintenance (PPM) to reduce reactive and unplanned maintenance, whilst at the same time increasing the function's maturity through better knowledge, processes and systems.
3.5 It is important to note, as the FM function continues to mature, Council will continue to see benefits, however, the reality is that the implementation of the enhanced approach may take a couple of planning cycles before the full benefits are realised.
3.6 For clarity, Council's FM provision is currently sitting in the 'Strategy Implementation' phase.
3.7 Equally so, it is important to note that as the FM function continues to mature and understand assets better, this will highlight the gap between the current and desired state of Council's assets.
3.8 It is expected that by doing this, several unknown maintenance issues will be discovered that will need to be addressed. This may result in the need for increased budgets in the short term to resolve these issues.
3.9 Ideally these works will be addressed through planned operational and capital renewal programmes in the 2021-31 LTP, however some issues may need to be attended to in the current financial year.
Improvement Actions
3.10 To give effect to the enhanced FM approach several actions were proposed by WTP.
3.11 These actions were accepted by Council Officers and are in various stages of completion. For alignment back to the KPMG report findings, these actions have been placed under the recommendation headings that they are addressing:
Skillsets
· As per paragraphs 2.17 – 2.19 this was addressed through the Infrastructure Unit restructure that took place in May 2019.
Processes
· Improve internal FM processes through the creation of operating procedures which are included in the sub-contract's for trades.
o An example would be defined workflows providing an understanding of how certain events take place under the new contractual operating model.
System
· Undertake a procurement exercise for an MMS (maintenance management system). Systems in themselves do not drive improved performance, however there are considerable barriers in the current system that will considerably limit the improvements that can be made. Essentially the intent is to speed up the processes with which the FM function currently administer FM.
· The system needs to provide the following:
o Automated workflow and links to both K-Base and the financial software package to significantly reduce internal labour and opportunity costs;
o Automated planned property maintenance scheduling which "pushes" jobs to contractors directly based on frequency;
o Field/ phone app system to enable the FM team to communicate with the relevant tradesperson in the field in real time, rather than having to come back to the office to then methodically send out all the jobs;
o A function within the phone app which allows contractors to report on the status of jobs i.e. 'in progress', 'complete' etc.;
o Better reporting functions to allow better decision making for the FM team; and
o Better asset reporting through integration with the Asset Management System (SPM) to maintain up-to-date information to better understand the condition of the PNCC assets.
Contractors
· Undertake procurement of trade services on an individual trade level with an emphasis on moving contractors onto a new more robust contractual framework which will allow the FM to more easily manage sub-contractors.
· Reduce costs through procurement which will provide cheaper rates for trade services and an environment where costs are more known and easily managed by the FM team.
· Improve the overall H&S environment for FM through both the adoption of new internal H&S processes but also through contractual requirement placed on the sub-contractors.
Improvement Actions Progress
3.12 The improvement actions are currently underway and in various stages of completion.
Processes
3.13 Firstly, the FM team identified how both planned and unplanned reactive maintenance had been undertaken in the past. This included from when a call came in from a user, tasking a contractor, through to work closeout.
3.14 With the help of WTP, and based on best practice, the FM team has now identified and is currently process-mapping several optimal and streamlined processes to better address the programme of works. Essentially determining "what good looks like".
3.15 Many of these processes are unable to come into full effect until a new system has been implemented as this is causing considerable functionality limitations.
3.16 In the meantime, the revised processes are being modified around the existing FM system to deliver as many efficiencies as possible until a new system is in place.
3.17 In addition, there has been an effort to determine a clear responsibility line/ maintenance approach for works to be completed – Essentially what is user's responsibility, what is Council's?
3.18 There is a focus on consistency, so all parties have a clear understanding of their maintenance responsibilities for planning and budgeting purposes.
3.19 It has been determined that there are five broad maintenance approach categories based on the use type of facility and the users. The responsibility line for maintenance varies between these categories but is consistent for all facilities within them.
3.20 The five maintenance approach categories are:
1. Operational Facilities – facilities Council operates out of.
o Essentially all maintenance within these facilities is the responsibility of the FM function/ Council.
2. Investment Properties – tenanted and has a commercial lease agreement
o Nearly all maintenance other than compliance matters related to the building fabric is the responsibility of the tenant.
3. Housing
4. Cultural Facilities
5. Community Centres and Agency Facilities
3.21 For clarity, the maintenance responsibility line within the Housing, Cultural Facilities, and Community Centre and Agency Facilities approaches sit at different levels between other two approaches.
3.22 The Housing and Community Centre and Agency Facilities approaches are still being finalised in conjunction with the user groups.
System
3.23 Working with WTP Council have competed a thorough analysis of its system. These are detailed in paragraph 3.9 of this report.
3.24 Council Officers met with other organisations including Citycare, Programmed Property Services & Wellington City Council to understand what systems they use, what their user requirements were, and the advantages and disadvantages of their respective systems.
3.25 This was then followed by a Request for Information from suppliers in the marketplace to understand what options are available. These systems were then assessed against Council's requirements, and further investigation was then undertaken on the top 3 systems.
3.26 This is currently being evaluated as part of the Information Management Strategic Planning Process.
3.27 It is currently unbudgeted, and as such will be considered as part of the 2021-31 LTP process.
Contractors
3.28 Significant work has been undertaken to create new contract documentation for our Contractors as well as an FM Operational Requirements document which will be the foundation for contractual expectations.
3.29 The new contract model will reflect a preferred supplier for each trade sector i.e. lift maintenance, air-conditioning, fencing, BWOF, asbestos removal etc.
3.30 For some of the bigger trade sectors such as electrical and plumbing; two suppliers may be selected to ensure contractor availability.
3.31 The contracts have been written to include several performance-based and service-based KPIs to meet the enhanced requirements of the FM provision including:
· Expectations around response times;
· Agreed financial rates where applicable;
· Health and safety and risk analysis and reporting;
· Asset condition data reporting; and
· Job progress update expectations.
3.32 Council Officers will be engaging the contractor marketplace in the first quarter of the 2020/21 financial year either through open tender or direct sourcing in line with Council's procurement policy.
4. influencing asset management planning
4.1 Ultimately the enhanced FM approach will have a direct influence on the content of AMPs, decision making, and will help to ensure the programme of works planned is well scoped and deliverable.
4.2 The Property Division is working closely with the Asset Planning Division to:
· Develop a budgeted programme of works informed by Asset Management Plans and the Infrastructure Strategy; and
· Provide asset information intelligence that better informs asset management planning and developing priorities for the programme of works.
4.3 The improved asset management planning will become evident through the updating of the AMPs in the 2020/21 Year, resulting in a well scoped, deliverable, end of life replacement and renewal programme.
4.4 Four key pieces of work that are being undertaken to support the asset management planning discussed in paragraph.6 are:
· Condition Grade Assessments;
· Asset Component Levels of Service;
· Portfolio-wide Facility Hierarchy; and
· Asset Component Hierarchy within these Facilities.
4.5 These four elements are interlinked and form the starting point for the compilation of the renewal and maintenance programmes.
Condition Grade Assessments
4.6 It is essential the Property Division understands the current condition of facilities and importantly the individual components within them. Asset components are graded on a 1-5 scale whereby:
· Grade 1 – Very good/ new condition
· Grade 2 – Good condition
· Grade 3 – Fair condition
· Grade 4 – Poor condition
· Grade 5 – Very Poor condition/ failure
4.7 The previous strategy for condition grade assessments relied on 3-yearly portfolio-wide assessments and focused on replacement upon failure. If this assessment process was delayed the condition data would become more and more out of date.
4.8 The revised strategy is for condition assessments to be integrated into the FM service provision. For example, when a contractor is conducting service work in facilities they are also reporting on the condition of the asset at the same time.
4.9 In addition to this the Property Division is currently undertaking an initial portfolio-wide assessment to bring all the condition data up to date. Not only will this help to inform the next LTP but will also form a strong basis to begin working from under the superior approach of continued assessments.
Asset Component Levels of Service
4.10 Coupled with understanding the condition of assets, there is also a need to determine at what point during the individual asset's life within the facility needs to be replaced or renewed.
4.11 This is informed by a balance of Council's overall level of service expectations for its facilities and the expectations of the users and tenants of the facilities.
4.12 In the past the approach has been maintain the level of service required at a facility level, rather than at an asset component level. Essentially maintaining all components within a facility at the same condition grade.
4.13 The revised approach is to maintain facilities at a component level. This approach reflects that some areas within a facility may need to be kept at a higher standard than others. An example of this could be maintaining the carpet in a reception or public-fronting area in a good condition (grade 2), whereas carpet in a back office of a building may not be replaced until it is in a poor condition (grade 4).
4.14 In addition to this, some assets within a facility may be renewed or replaced at a higher level than others depending on their criticality and performance. For example, it may be appropriate to let carpet deteriorate to a poor condition (grade 4), but windows and sills may always be renewed at a fair condition (grade 3) to ensure water-tightness.
Portfolio-wide Facility Hierarchy
4.15 Given Council does not have unlimited resources; works need to be prioritised to ensure the most important works are completed first within budgets.
4.16 While all of Council's facilities are important, and each facility enables a service to be delivered (either internally or externally), some facilities are more critical than others, and need to be prioritised.
4.17 A key piece of work towards this is determining a portfolio-wide facility hierarchy. This allows for a clear prioritisation of facilities which will help inform which works should be prioritised when determining a programme of works in the 10-year plan.
4.18 This exercise considers factors such as:
· Utilisation and demand for the facility;
· Average condition of the facility and the assets within it;
· Criticality of the facility; and
· Value of the facility.
4.19 For clarity, the hierarchy order can, and probably will, change in the future as Council's direction, services provided, and physical assets change. It is a "snap-shot in time", which will assist with informed decision making.
4.20 In addition to establishing a hierarchy at a facilities level, it is also important that the various asset component types within a facility are also provided with a hierarchy. This will add a further level of informed decision making.
Asset Component Hierarchy within these Facilities
4.21 The level at which assets are to be replaced or renewed, and what assets should be prioritised over others is determined by the asset component hierarchy.
4.22 The hierarchy of assets components within the Council's facilities is:
Essential Works
1. Works that affect water-tightness or cause damage if not resolved
· Roof work, windows, cladding, toilets etc.
2. Essential works to meet tenancy standards
· Bathrooms, kitchens, lighting etc.
3. Compliance related matters
· Fire detection and protection, asbestos, electrical and wiring etc.
Non-Essential Works
4. Functional works
· Layout changes, user requested functionality changes etc.
5. Cosmetic and other works
· Painting, carpet etc.
4.23 Note this is not an exhaustive list of assets and works. It is simply intended to provide an overview of this workstream.
4.24 This means the essential works (items 1-3) in paragraph 4.22 will be prioritised over the non-essential works.
Hierarchical Prioritisation Example
4.25 An example of how the hierarchical prioritisation can influence decision making:
· Works were identified to be completed in the Crematorium, Wastewater Treatment Plant (WWTP) and Community Centre.
o Crematorium – Internal painting
o WWTP – Bathroom refurbishment
o Community Centre – Carpet replacement
If funds were only available to do works in one of the facilities, staff had to choose where to focus on…
· The Crematorium and the WWTP were assessed as equal highest importance within Council's portfolio and given an equal priority ranking of 1 due to the critical services provided within the facilities, whereas the Community Centre was less critical and ranked a 2.
· This means the works required in the Crematorium and the WWTP take priority over the works in the Community Centre.
However, if funds were further limited and had to choose between the WWTP and the Crematorium in this situation…
· Based on the asset component works hierarchy, the bathroom refurbishment in the WWTP would be prioritised over the painting within the Crematorium.
· The other works would be deferred until funds were available.
4.26 Appendix 2: 'Hierarchical Prioritisation of Works Flowchart' supports this example.
5. NEXT STEPS
5.1 Continued improvement and development of the facilities management provision within Council.
5.2 A programme will be forwarded to the 2021-31 LTP for the purchase and on-going support of the preferred option.
6. Compliance and administration
Does the Committee have delegated authority to decide?

Yes

Are the decisions significant?

No

If they are significant do, they affect land or a body of water?

No

Can this decision only be made through a 10 Year Plan?

No

Does this decision require consultation through the Special Consultative procedure?

No

Is there funding in the current Annual Plan for these actions?

No

Are the recommendations inconsistent with any of Council's policies or plans?

No

The recommendations contribute to Goal 5: A Driven and Enabling Council

The recommendations contribute to the outcomes of the Driven and Enabling Council Strategy

The recommendations contribute to the achievement of action/actions in Not Applicable

The action is: Not Applicable

Contribution to strategic direction and to social, economic, environmental and cultural well-being

Improved facilities management practices will ensure Council's building are maintained appropriately and will directly influence Council's Asset Management Planning.
| | | |
| --- | --- | --- |
| 1. | AoG FM Service Panel Maturity Model ⇩ | |
| 2. | Hierarchical Prioritisation of Works Flowchart ⇩ | |